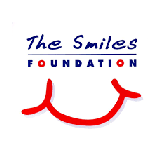 On Sunday, August 4, 2019, 7:10 pm
Hello,
We've all arrived safely in a very hot and sunny Romania. Thank you all for your prayers.
As you continue to pray for the team give thanks to God that everyone travelled well. There was no travel sickness and apart from a slight delay getting off the runway in Dublin all travel plans went well.
As we start work on the projects tomorrow please pray for safety in travel, to overcome language barriers and share the love of Jesus with those we meet.
Just a wee update for church this morning. We've all arrived safely and everyone has travelled well. We are on our way to church now in tileagd.
We thank you all for your prayers and ask you to pray for us as we start work on the projects tomorrow morning.
On Friday 2nd August a group of volunteers from church travelled to Romania with the Smiles Foundation.
Below you will find their story and adventures, challenges and joys as they unfold over the next week.
Monday, August 5, 2019, 7:53 pm
Evening from a very hot Romania. Today we've had our first 'taste' of work. 3 teams set off this morning to paint, organise the warehouse and visit the gypsy communities.
In your prayers give thanks for
*safety on our travels, some of us have covered many miles today and Romanian driving is a sometimes 'risky'!
* that everyone has stayed well
And pray for
* all the staff who work for smiles especially Kevin who has a lot of responsibility.
* the people in the gypsy community
* florentina, who now lives at the centre after some life changing events
Thanks you all for keeping us in your prayers.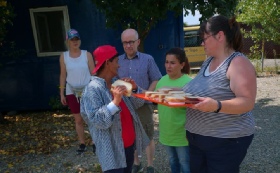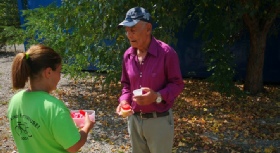 Tuesday, August 6, 2019, 7:50 pm
Evening everyone,
It's been another very hot day in Romania. The thermometer in one of the villages read 31 degrees!!
Tonight in your prayers please give thanks for
* safety on the roads today - we had a 2 hour drive to Dezna.
* health and strength of the team in the heat and when travelling.
* the vast amount of work that was completed today. Again we had 3 teams - a gardening /weeding team, varnishers and the turf layers.
Pray for-
* Maria, who is Kevin's (smiles ceo) assistant. Her baby is due any day but she has a terrible cold that has to clear before her c-section.
* Kevin, Luke, Andrew Mcmullan, Andrew Kane, Gilmour and Robert who are staying in Dezna tonight to finish laying turf and to do some painting.
*the children who are currently at the camp and Ioana who is in charge of the camp.
We've seen the terrible rain on Facebook so hope you've all kept dry and we'll be in touch tomorrow.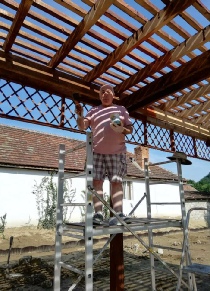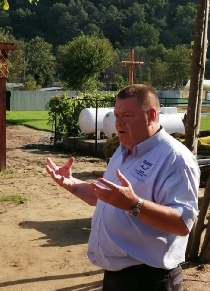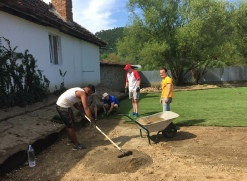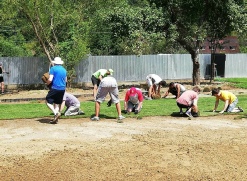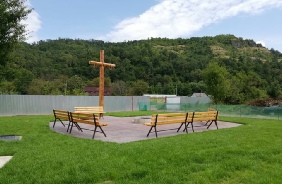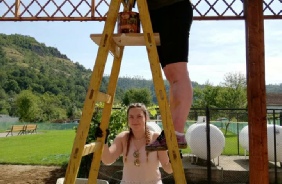 On Wednesday, August 7, 2019, 7:45 pm,
It's been another busy day in Romania. Again there were 3 teams working hard today. The gardening team planted thousands of pansies and cyclamen plants. The turf team laid MORE turf in Dezna and the last team had fun at childrens outreach programme, c.o.p.s, (holiday bible club). We even sang to the children in ROMANIAN!!!
Prayer points....
Give thanks that:-
* Andrew k, Andrew McM, Robert and Gilmour have returned safely from Dezna and have completed a LOT work in the grounds.
* Everyone has kept well and managed the heat well.
Please pray for
* the ongoing work at Dezna to prepare it for the official opening in September.
* the children who attended the meeting today. Many have no church connection and we hope and pray that this outreach programme will plant little seeds that will lead them to Jesus.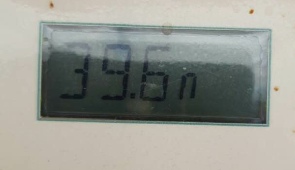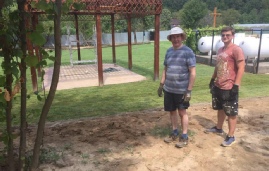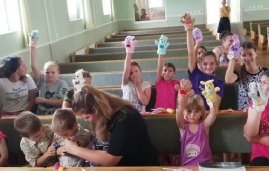 Thursday, August 8, 2019, 9:15 pm
Another busy day in Romania.
Today as is now the usual, 3 teams left to go to different places.
Team 1 went out on field projects to visit Rapa gypsy village, give lunch to the homeless at the container village and visit some homes.
Team 2 headed to the Joint Facility of Love where we took the residents to the local park We also had a visit to the greenhouses.
Team 3 went out to the mountains to help with the second day of children's outreach programme.
Everyone came back to the centre having been challenged with the stories of those we met.
Prayer points:-
Give thanks for,
* safety in travel
* that the team are all well
* a cooler day
In your prayers remember :-
* Alina who is in charge of field projects. She faces many difficult situations daily as she visits many different people with difficult needs.
* The children who've attended the c.o.p.s meetings this week. Pray that they will grow in their faith.
* The staff and residents of the joint facility of love. We especially ask you to remember Rebecca who looks after the daily running of this facility as she is currently unwell.

Friday, August 9, 2019, 8:27 pm
Our final day in Romania has been another day of smiles and some tears as we were challenged by the people we met.
The 3 teams left this morning as usual.
Team 1 went to Elderly care Oradea to paint some bedrooms.
Team 2 went out on field projects. They called in Rapa village to play with the children and took food to families in need. They also made lunch for the residents at the homeless container village.
Team 3 went to clean in the nursery school in Tileagd and then went to Tileagd assisted living.
Give thanks for :-
* The safe travels of the team during the week. We've covered many miles and visited many places.
* the health and strength of the team. We've had a few very hot days which we've all managed to tolerate the heat.
Pray for:-
* safety for the team travelling home tomorrow.
* Anna, who is a resident in Tileagd assisted living. She's had a difficult time and is VERY thankful to have lovely surroundings and a comfortable bed. We certainly gave and received 'smiles' when we visited Anna today.
*the families that need help to feed their children and need support in many other ways.
Thank you for all your prayers this week and God willing we will see you soon.